THE STUDIO
Based in Boston, Marks + Spaces designs and produces exhibitions, installations, and interactive media experiences. We also develop brand strategies and identities.
story + media + space + people
We work directly with independent curators, museums, businesses, universities, and cultural centers, and we collaborate with curators, architects, graphic designers, media producers, interpretive planners, and fabricators.
Notable exhibition projects include Now What?! Boston for Architexx at the Boston Society of Architects, Living with Hurricanes, Katrina and Beyond for the Louisiana State Museum, and What's Going On? Newark and the Legacy of the 60s for the New Jersey Historical Society. Marks + Spaces has worked with MetLife in various capacities from designing a Manhattan based, multimedia Brand Experience Gallery to the design of studio sets, brand identity standards, stadium scaled motion graphic designs, and internal media communications.
We like to start at the beginning of a project and work with our clients to envision and develop coherent and engaging storylines and experiences. We think narrative, strategy, and design are all integral to the process of developing public projects and strong brands. And we think careful site analysis produces designs that are the most integrated +/or responsive to the existing architecture and building conditions. We work with a focus on creating opportunities for visitor participation. Experiences become more meaningful when visitors get actively involved. We work across media to facilitate that involvement.
CREATING SPACES FOR DIALOGUE
Exhibition Design
Media Design
Project Management
Teaching
Brand Design
JESSIE RUBENSTEIN
Founder, Creative Director
Marks + Spaces is led by Jessie Marks Rubenstein. Jessie has worked in exhibition for 20 years and has an educational background that combines interior architecture and psychology.
Jessie was a lecturer in Graphic Design at Boston University, College of Fine Arts, School of Visual Arts from 2015-2022. Producing experiential learning projects with students is an active part of Jessie's design practice.
Jessie's work focuses on bringing people together to unpack and discuss various subjects through multiple entry points (visual, tactile, auditory), creating platforms for conversation.
She holds an MFA in interior architecture from the School of the Art Institute of Chicago and a BA in psychology from the Colorado College.
Jessie is a member of the Advisory Board at the Institute of Contemporary Art, Boston.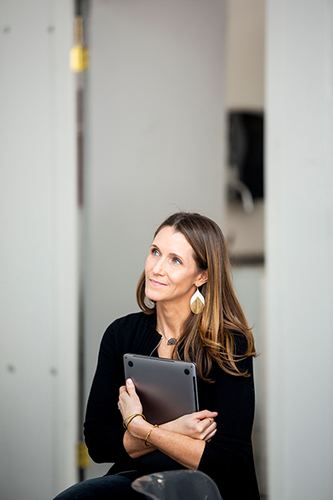 Jessie Rubenstein, Founder + Creative Director
CLIENTS
Architexx
Boston Society of Architects
Boston University Art Galleries
Howard Gotlieb Archival Research Center at Boston University
Marion Historical Society
Shanti Yoga
KEEN LA
MetLife
Boston Productions
Proverb
Walter Clore Wine and Culinary Center
Horicon Marsh Education Center
Miami Museum of Science
WB Mason
Origin Beverage
Lipton Naturals Ice Tea
The Mob Museum
ADDITIONAL CLIENTS
With Experience Design
Denver Art Museum
Louisiana State Museum
Puget Sound Navy Museum
Texas A&M University
Federal Reserve Bank of Boston
National Library of Medicine
New Jersey Historical Center
Montclair University
Heritage Harbor Museum
Broad Institute
Bangor Museum and Center for History
Vermont Folklife Center
Northern Forest Center
Harvard Student Agencies
Boston Society of Architects